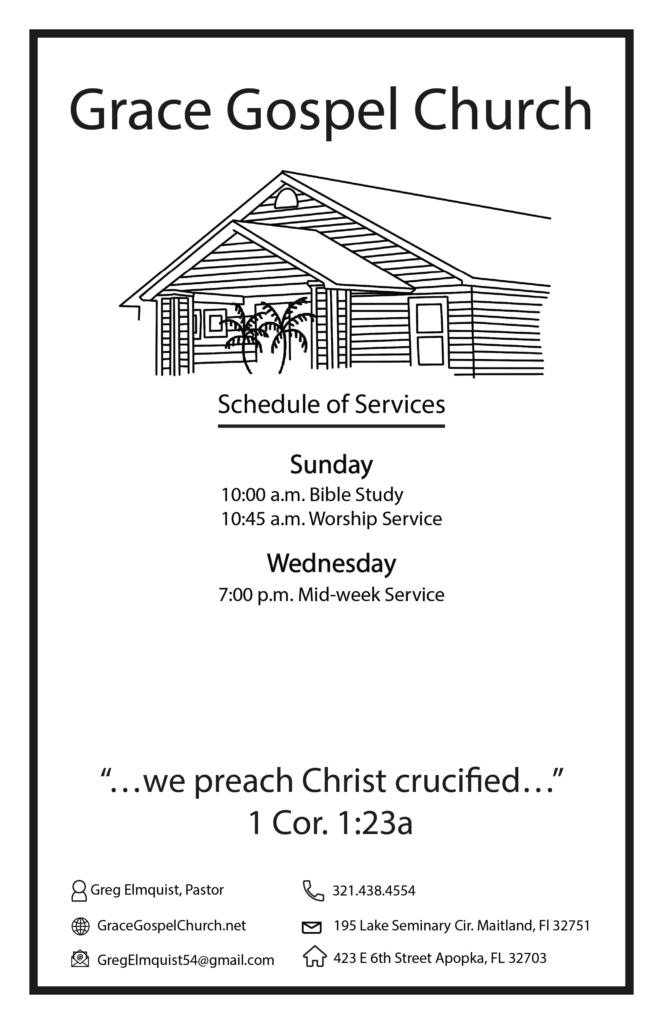 November 26, 2023
Who is Your Surety?
A Surety is one who makes another sure. For the believer, Christ is the only One that can make them sure before God. Also, He is the only One that can speak peace to their hearts as to having a sure hope. Why do our religious friends and family members desperately need to find some common ground with us? Why do they insist on calling us "brother" and expect us to delight with them in their religious activities? The answer is simple. Not having Christ as their Surety, they are looking to men to make them sure. "He that is surety for a stranger shall smart for it…" Ps. 11:15.                                                                                                GE
______________________________________________________________________________
Brotherly Love
We are taught of God to love the brethren. And we are admonished to grow in our love, more and more. 1 Thes. 4:9-10. Any attempt to love that does not flow from God's love for us in Christ, is sure to be a feigned, manufactured work of the flash. The first time that "love" is spurned or not properly appreciated, it will quickly turn to resentment or even hate. Many are afraid to love because of a bad experience in their past. Perfect love (God's love for us) casteth out fear. 1 Jn 4:18. They say never to invest in a longshot, unless you can afford to lose your investment. Child of God, risk loving. You can afford to lose your investment. The wellspring from which you draw is inexhaustible. Swim in the ocean of God's love, and you won't have to fear drowning in a pond with your brother.                                                                                    ~GE
______________________________________________________________________________
Faith Honors Christ
FAITH is a secondary thing compared to Christ. We must have faith to be as the finger with which we touch the hem of the Master's garment, but the finger does not work the cure. Shall I refuse to touch because I have not washed my finger clean, or it has no gold ring on it? To attach so much importance to the finger as to refuse to touch Christ's garment with it would be insanity. Do not mind your finger; touch the garment's hem! Get to Christ somehow, anyhow, for if you get to Him you shall live. It is not the greatness nor the perfection of your faith, it is His greatness and His perfection which is to be depended on. ~Charles Spurgeon
"Both thieves at the first, when nailed to the cross, joined the cry against our Lord, until one of them, struck by divine conviction, had his heart suddenly changed, and cried out for mercy. JESUS snatched him as from the very brink of hell, and as a trophy of His rich, free, and sovereign grace, took him with Him to heaven. I beg the reader not to pass away from the view of such wonderful love, until he has feasted his soul with the contemplation. Here was no merit, no predisposition, no service, no ordinance, no means, neither baptism nor the Lord's supper; but, on the contrary, everything of demerit, a life of infamy, and within a short period all over, and dying under the hand of justice. And yet such a one the Son of God took with Him at once to everlasting joy! What will any man call this? Was Christ, or was He not, in this instance, the whole of salvation? And is He not so in every other?" [He most certainly is.]                    ~Robert Hawker
______________________________________________________________________________
The first step toward the recovery or restoration of sight is the realization that one has a problem seeing. I never heard of anyone who sought out and called upon an optometrist before realizing that his sight was bad. Likewise, no sinner ever sought out and savingly called upon the Saviour, the Lord Jesus Christ, until he realized that he could not see. Christ Jesus only saves the blind (John 9:39-41). But how full of grace He is to them!  
         ~Maurice Montgomery
______________________________________________________________________________
Election
It is the eternal, sovereign, unconditional, and immutable decree of God, whereby according to the wise counsel of His own will and for His own glory, He has selected for Himself some individual sinners from all mankind and of every nation to be redeemed and everlastingly saved by the Lord Jesus Christ.            ~Willy Mapote
______________________________________________________________________________
Upcoming Bible Conferences
Dec 1-3 Lantana Grace Church, Crossville, TN
Jan 12-14 Grace Gospel Church, Apopka, FL
(David Eddmenson, Caleb Hickman, Todd Nibert)
______________________________________________________________________________
"I was glad when they said unto me, Let us go into the house of the LORD." Ps. 122:1.
CALL TO WORSHIP
To God be the glory, great things He has done;
So loved He His people He gave them His Son,
Who yielded His life an atonement for sin,
And opened the life gate that they may go in.
Refrain
Praise the Lord, praise the Lord,
Let the earth hear His voice!
Praise the Lord, praise the Lord,
Let His people rejoice!
O come to the Father,
Through Jesus the Son,
And give Him the glory,
Great things He has done.
O perfect redemption, the purchase of blood,
To every believer the promise of God;
The vilest offender who truly believes,
That sinner from Jesus a pardon receives.
Great things He has taught us, great things He has done,
And great our rejoicing through Jesus the Son;
But purer, and higher, and greater will be
Our wonder, our transport, when Jesus we see.
Nursery
This Week 10:00 Irene           10:45 Renae
Next Week 10:00 Pam            10:45 Megan
Clean-Up Schedule
Week of Nov 26th      Don & Mary Williams
                                    Dean & Star
                                    Enrique
                                    Paul
Week of Dec 3rd        Michael & Diane
                                    Pam
                                    Jane
                                    Jim & Kay
                                    Birthdays
Nov 26 Adam Charron           Nov 29 Jill Olson
Dec 1 Scott Riera