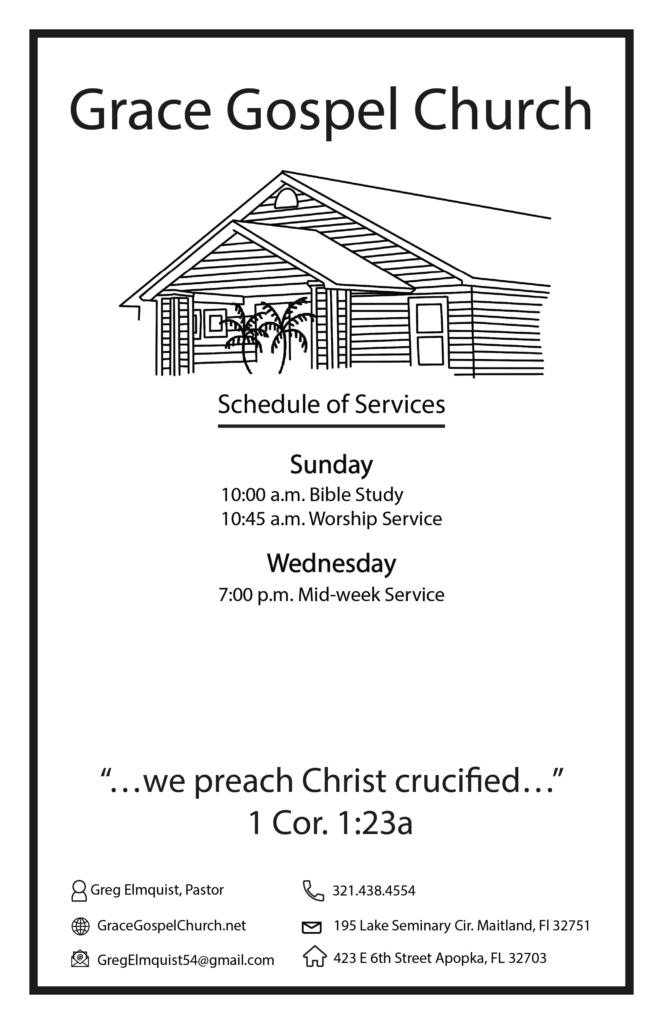 February 16, 2020
Affect, but Not Effectual
Dictionary meaning of Affect and Effect.
Affect: verb. To impress the mind or move the feeling.
Noun: Feeling or emotion.
Psychiatry: an expression or observed emotional response.
Effect: Noun: Power to produce a result: efficacy, force.
Verb: To bring about—make happen.
There is a faith that has affect but is not effectual. Examples: The devils have a form of faith that affects them to the point of trembling, but is not effectual in bringing them to trust Christ to save them. James 2:19 "Thou believest that there is one God; thou doest well: the devils also believe, and tremble."
Felix had this same faith. Act 24:25  "And as he reasoned of righteousness, temperance, and judgment to come, Felix trembled, and answered, Go thy way for this time; when I have a convenient season, I will call for thee."
There is a faith that affects people's emotions and causes a response, but does not save. There is a faith that is effectual, it brings men and women to lay hold on Christ as there all in all. It is a faith that brings about a real change. Hebrews 10:39  "But we are not of them who draw back unto perdition; but of them that believe to the saving of the soul."  It is the Faith of God's elect that saves. (Titus 1:1)                                     ~John Chapman
____________________________________________________
God saves only the Un-People:
The Unprofitable,
The Ungodly,
The Unrighteous,
The Undeserving,
The Unlovable,
The Undone!
~Darvin Pruitt
____________________________________________________ 
Sunday, March 15th,
Church covered dish lunch. 
There is nothing that the church does that is more important than assembling to worship Christ. To gather in order to honor Christ through praying, preaching, and hearing the Gospel is such an important thing that each of us should approach it very seriously.  Let each one prepare himself in heart and body so as to arrive on time, having the heart clothed with a desire to hear from Christ and the body dressed modestly so as not to attract attention to one's self.  Let each of us enter into every song and prayer, closing out the thoughts of the world and all the cares it loads on us.  Let each of us listen to the Word of God with the intensity of baby birds chirping for food.  In short, let each of us give himself to worship in this hour as though there were nothing better or more important in all the world to do – because there isn't. ~Joe Terrell
____________________________________________________
Brother, if any man thinks ill of you, do not be angry with him. For you are worse than he thinks you to be. If he charges you falsely on some point, yet be satisfied, for if he knew you better, he might change the accusation and you would be no gainer by the correction.
If you have your moral portrait painted and it is ugly, be satisfied. For it only needs a few blacker touches and it would be still nearer the truth. "I will be base in my own sight.' This was well said. Perhaps if David had carried it out more fully and had been rendered watchful thereby, it might have saved him from his great fall. A sense of electing love will render you base in your own sight."                                                            ~C.H Spurgeon
____________________________________________________ 
With all lowliness and meekness, with longsuffering, forbearing one another in love; Endeavouring to keep the unity of the Spirit in the bond of peace. There isone body, and one Spirit, even as ye are called in one hope of your calling; One Lord, one faith, one baptism, One God and Father of all, who is above all, and through all, and in you all.  Eph. 4:2-6
____________________________________________________
Ladies mark your calendar for Saturday, February 29th, 11:00 am, Bridal Shower Brunch at the church for Emilee Brundage. Come help us celebrate and honor the future Mrs. Christian Murray.                                                                                                                           CALL TO WORSHIP
Great Father of glory, how rich is thy grace!
What wonderful love is displayed in Thy face!
In Jesus Thy image, with brightness we view,
And hope to be formed in that likeness anew.
Oh, wonder of wonders! Astonished I gaze,
To see in a manger, the Ancient of Days!
From sin to release us, that yoke so long worn,
My God, my Creator, of Mary was born!
For unworthy sinners, my Lord bowed His head,
For unworthy sinners, He suffered and bled;
My spirit rejoices; the work is all done!
My soul is redeemed, my salvation is won!
Great Father of glory, how rich is Thy grace!
What wonderful love is displayed in Thy face!
In Jesus, Beloved, we're washed in His blood,
And with confidence come
to the throne of our God.
(Tune: How Firm a Foundation, p.268)
Nursery
This Week 10:00 Emily D & Cindy 10:45Irene & Mary Williams
Next Week 10:00 Star & LG            10:45 Callie & Diane 
Clean-Up Schedule
Week of Feb 16th      Dean & Star Mannino
Week of Feb 23rd      Don & Mary Williams
Birthdays
Feb 15 Michael Bolton           Feb 17  Bethany Hickman
Feb 17 Caleb Belleza              Feb 19  Bonnie Sweitzer
Feb 20 Wade Dunbar              Feb 20  Rachel Waesche
Feb 21 Gigi Riscinti                Feb 22 Mary Jane Neumann