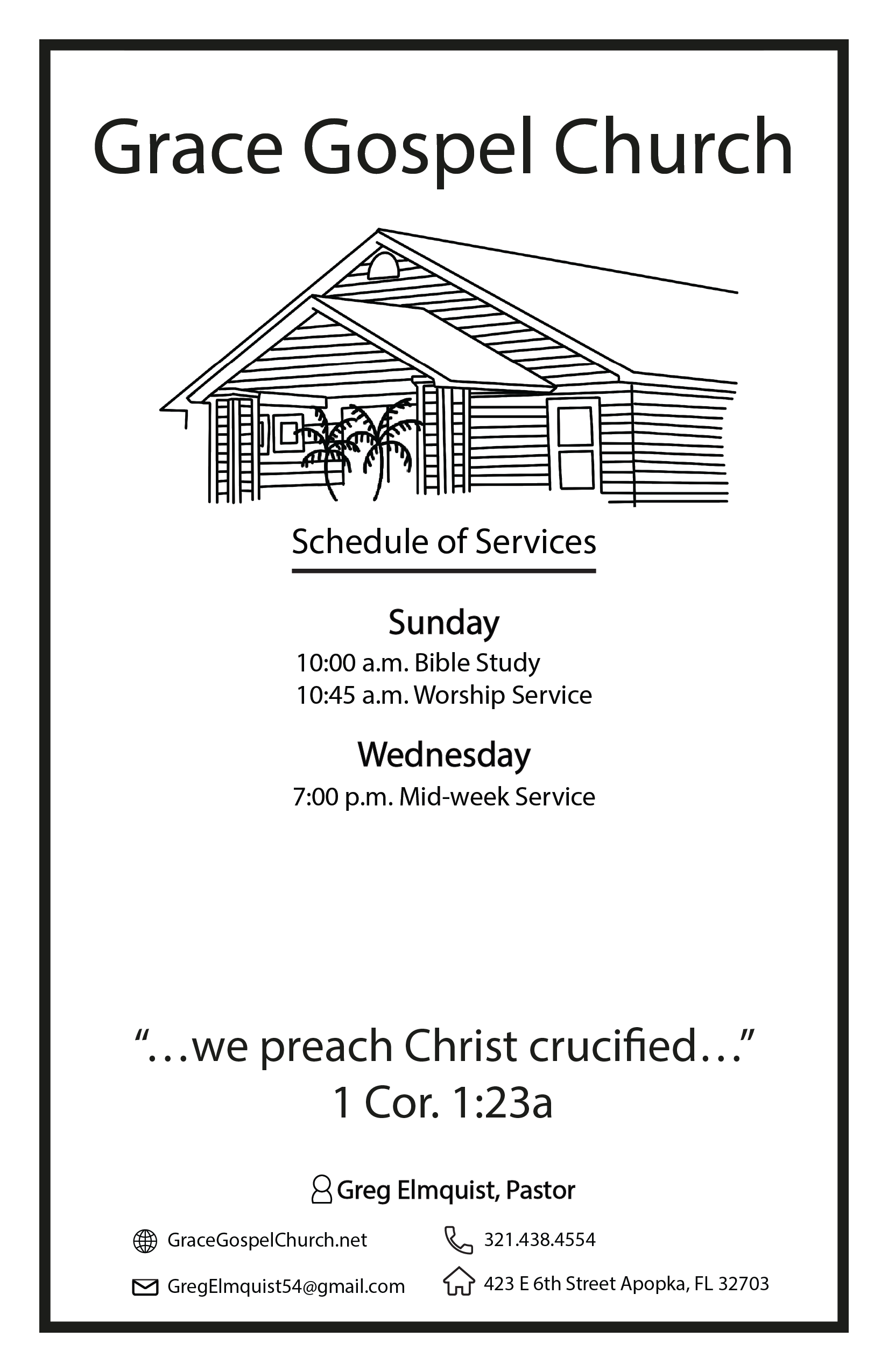 August 18, 2019
Assurance of Salvation
Every child of God believes with all their heart that Jesus is the Christ, the Son of the living God.  In believing on Him, they know without any doubt that He was successful in putting away ALL the sins, of ALL God's elect, ALL by Himself.  They believe that none for whom Christ died will ever suffer the wrath of God.  They know that God saw the travail of His soul and was satisfied.  These things are never in question for a child of God.  However, one thing most believers have questioned is: "did Christ die for me?" "Were My sins put away once and for all?"
Only the Holy Spirit can speak to our hearts.  He does this, NOT when we look for some evidence in ourselves.  To the contrary, the more we look for evidence in ourselves, the more we are caused to doubt.  No, the peace of God that passes understanding is the result of having your heart and mind kept through Christ Jesus. It is "looking unto Jesus the author and finisher of faith".  It has been said; When I look to Christ, the dove of peace flies into my heart.  When I look for the dove of peace, He flies away.                          ~Greg
_____________________________________________
All of the adjectives we use for grace like sovereign, free, and saving are inherent in the word.  When we speak of the Biblical word grace it is always the grace of God that loves, elects, predestinates, justifies, redeems, calls, regenerates, preserves, and glorifies. Any use of the word grace that does not comprehend all of those things is not the grace of God.  It is the word grace without the meaning of grace.                                                 ~Todd Nibert
_____________________________________________
When I was young, I was sure of many things; there are only two things of which I am sure now; one is, that I am a miserable sinner; and the other, that Jesus Christ is an all sufficient savior. He is well taught who gets these two lessons.                           ~John Newton
_____________________________________________
For there is no one so great or mighty that he can avoid the misery that will rise up against him when he resists and strives against God.                                                                          ~John Calvin  
Trials
 Let it never be forgotten that when a person is down, he has a good opportunity for trusting God and bearing before others a strong testimony. A false faith can only float in smooth water, but true faith is at home in the storms of life. If our faith in our Lord does not support us in time of trial, what is the use of it? This entire life's journey is one of tribulations! Our Lord said (John 16:33), "In the world ye shall have tribulations: but be of good cheer; I have overcome the world." If we cannot believe God when circumstances seem to be against us, we do not believe Him at all. Men trust a thief as far as they see him; shall we dare to treat our Lord in that fashion? No! No! The Lord is good, and He doeth all things well. He worketh all things according to His divine will and for good to those whom He loves. "Though I'm down in the dust, in God will I trust; I will hope in Him still and leave all to His will, For He will surely appear and banish all my fear."  
    ~John Ploughman's Talks
_____________________________________________
Betrayed with a Kiss
 Judas betrayed his Master with A KISS! He came to the Lord with evil in his heart, the price of a compromise in his hand, religious devils at his side, and said, "Hail Master", as he planted A KISS on the Lord's cheek!
This is how most apostates and compromisers operate; they betray the Son of God and the gospel of grace WITH A KISS. They talk of love, humility, morality, and sugar and spice while they sell out to the religious world and betray the sovereign Son of God. And men watch their pretended affection and hear their words, "Hail, Master", spoken so softly, smoothly, humbly, and sweetly, and they say, "Can such devout people be ENEMIES of the Lord?"
Do not be deceived; sometimes the most devout looking, religious people can be the most hypocritical in the world. Do not be deceived by their kisses. LISTEN TO THEIR GOSPEL! Peter, bearing the sword, had more grace than Judas, who came with a kiss.                                                                             ~Henry Mahan
_____________________________________________
Danville Bible Conference – Aug. 30st– Sept. 1st    
CALL TO WORSHIP
O Thou, from Whom all goodness flows
I lift my heart to Thee
In all my sorrows, conflict, woes
Dear Lord, remember me.  (Repeat)
When groaning on my burdened heart
My sins lie heavily
My pardon speak, new peace impart
In love remember me.
Temptations sore obstruct my way
And ills I cannot flee
O give me strength, Lord, as my day
For good remember me.
Distressed with pain, disease, and grief
This feeble body see
Grant patience, rest, and kind relief
Hear and remember me.
If on my face, for Thy dear Name
Shame and reproaches be
All hail reproach, and welcome shame
If thou remember me.
The hour is near; consigned to death
I own the just decree
Savior, and with my parting breath
I'll cry, Remember me. 
(Tune: "Majestic Sweetness" p. 52) 
Nursery
This Week 10:00 Mary Williams & Grace 10:45 Emily D & Olivia
Next Week 10:00 Star & Sarah 10:45 Irene & Ashley
Clean-Up Schedule
Week of Aug 18th         Trevor & Sarah Fancher
Week of Aug 25th          Don & Mary Wiginton
Birthdays
Aug 18    Peggy Avila               Aug 20   Logan Dunbar
Aug 22   Star Mannino