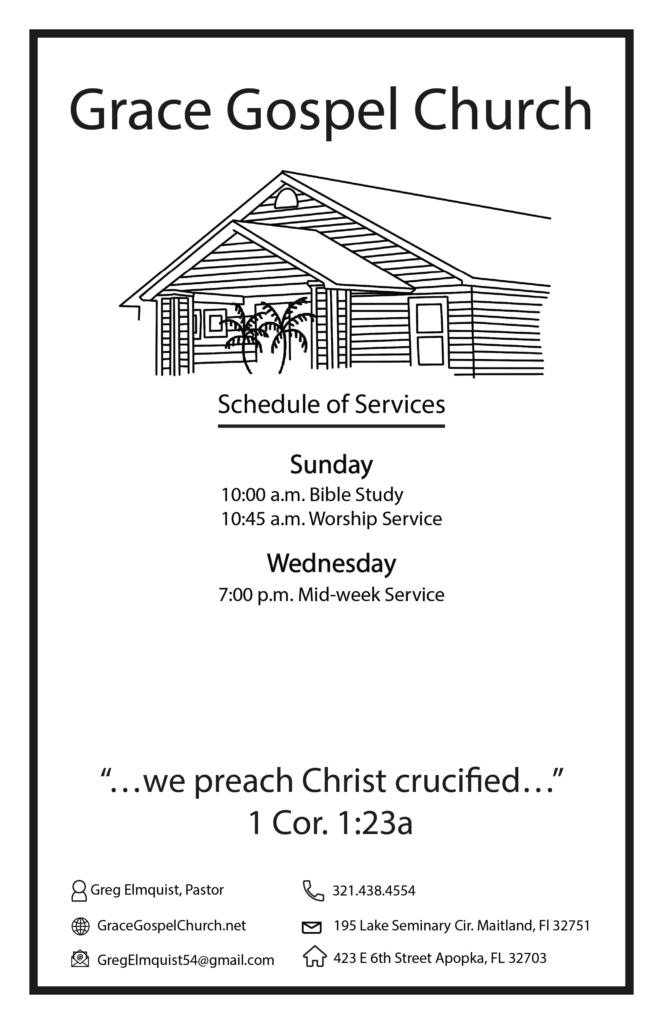 Are there feelings involved in salvation? Most surely. Are faith and repentance, confession, sorrow, commitment, peace, and love, real heartfelt experiences for the child of God? Sometimes. Oh, how sweet they are when the Lord is pleased to allow us to taste these things. However, it is sort of like "liberty" when it comes to preaching. Liberty certainly adds to the enjoyment of preaching. Preaching can be a painful process without it. But, liberty adds nothing to the power or effects of preaching. Often times the Lord will use a message struggled to be delivered for more eternal benefits, than one brought with great freedom of speech. So it is with feelings. Enjoy the sweet cordials of grace when they come. But, often times the Lord is strengthening the roots of the tree in the winter when the weather is cold and the branches are bare.                                                                                                            ~GE
____________________________________________________
 Christ Is All, Man Is Nothing
If salvation depends upon our being or doing anything, we shall inevitably be lost. Thank God, it does not; for the great fundamental principle of the gospel is that Christ is all: man is nothing. It is not a mixture of Christ and man---it is all of Christ. The peace of the gospel does not rest in part on Christ's work and in part on man's work; it rests wholly on Christ's work, because that work is perfect, perfect forever; and it renders all who put their trust in Him as perfect as Himself! Christ must either be a whole Saviour or no Saviour at all. The moment a man says, "Except you be this or that, you cannot be saved," he totally subverts the gospel; for in the gospel I find Christ coming down to me, just as I am--a lost, guilty, self-destroyed sinner; and coming, moreover, with a full remission of all my sins, and a full salvation from my lost estate, all perfectly wrought by Himself.             ~C H Mackintosh
____________________________________________________
Faith in Christ is not to work but to cease from our labor and to rest in Him for all things. Faith in Christ is not to do anything, but to believe and own that all is done in Him, by Him, and is imputed to us so fully that we are rewarded as if we did it ourselves!
~Henry Mahan
 Holding Forth The Word Of Life
Philippians 2:16
"Holding forth the word of life; that I may rejoice in the day of Christ, that I have not run in vain, neither laboured in vain."
How many times have you heard someone say, "I don't read the Bible because I don't understand it, and since I don't understand it, very quickly I lose interest in it."
There was once a young lady that began reading a novel and after a chapter or two, she found the book dull, and losing interest, she placed the book upon her shelf. Later she met a young man, and when the relationship became more serious, she discovered that he was an author. The title of one of his novels sounded very familiar, and sure enough, it was the same book in which she had lost interest. She immediately began reading the book again, and this time she couldn't put the book down. She didn't stop reading the book until she had finished.
What made the difference in this young lady's attitude toward the same book? She now was fascinated in the book because she had affection for and interest in the author. To some, the Word of God, the Bible, may be nothing but fables, dull and confusing. But to the one who personally knows the Author, the Book of life becomes fascinating to them, and they rejoice in the words of the One who
wrote it.                                                             ~David Eddmenson
____________________________________________________
The longer I live, the more I feel that if there were one thing left undone if the devil were not conquered, sin not expiated, justice not satisfied, the law not honored and magnified, death not overcome, and every burden not carried I should not have a ray of hope. I used to think I saw this as clear as noonday thirty or forty years ago; but I saw it differently then to what I see now; for I see and feel now that if one hairbreadth is left for me to do to merit heaven or bring as a plea before God, I am undone forever and ever. But on the mount of Calvary, the Lord Jesus Christ undertook the cause of His people, and there is not a jot or a tittle that He left undone, but "by one offering He perfected them that are sanctified," and "there is therefore, now, no condemnation to them which are in Christ Jesus, who walk not after the flesh, but after the Spirit." HERE IS COMPLETE PERFECTION!  "Saved in the Lord with an everlasting salvation."                   ~John Warburton
                     CALL TO WORSHIP
Christ is coming! Let creation from her groans and travail cease;
Let the glorious proclamation hope restore and faith increase;
Christ is coming! Christ is coming!
Come, Thou blessèd Prince of Peace.
Earth can now but tell the story of Thy bitter cross and pain;
She shall yet behold Thy glory, when Thou comest back to reign;
Christ is coming! Christ is coming!
Let each heart repeat the strain.
Though once cradled in a manger, oft no pillow but the sod;
Here an alien and a stranger, mocked of men, disowned of God.
Christ is coming! Christ is coming!
Come, Thou blessèd Prince of Peace!
Long Thine exiles have been pining, far from rest, and home, and Thee;
But, in heav'nly vestures shining, they their loving Lord shall see;
Christ is coming! Christ is coming!
Haste the joyous jubilee.
With that blessèd hope before us, let no harp remain unstrung;
Let the mighty advent chorus onward roll from tongue to tongue:
Christ is coming! Christ is coming!
Come, Lord Jesus, quickly come!
Nursery
This Week 10:00 Jennifer Dunbar      10:45 Irene
Next Week 10:00 Mary Ann             10:45 Diane
Clean-Up Schedule
Week of Aug 1st         Caleb & Bobbi
                                    Jeremy & Sandy
                                    Jeff & Megan
Week of Aug 8th        Chris & Ruth
                                    Grace, Rachel
                                    Logan & Emily               
Birthdays