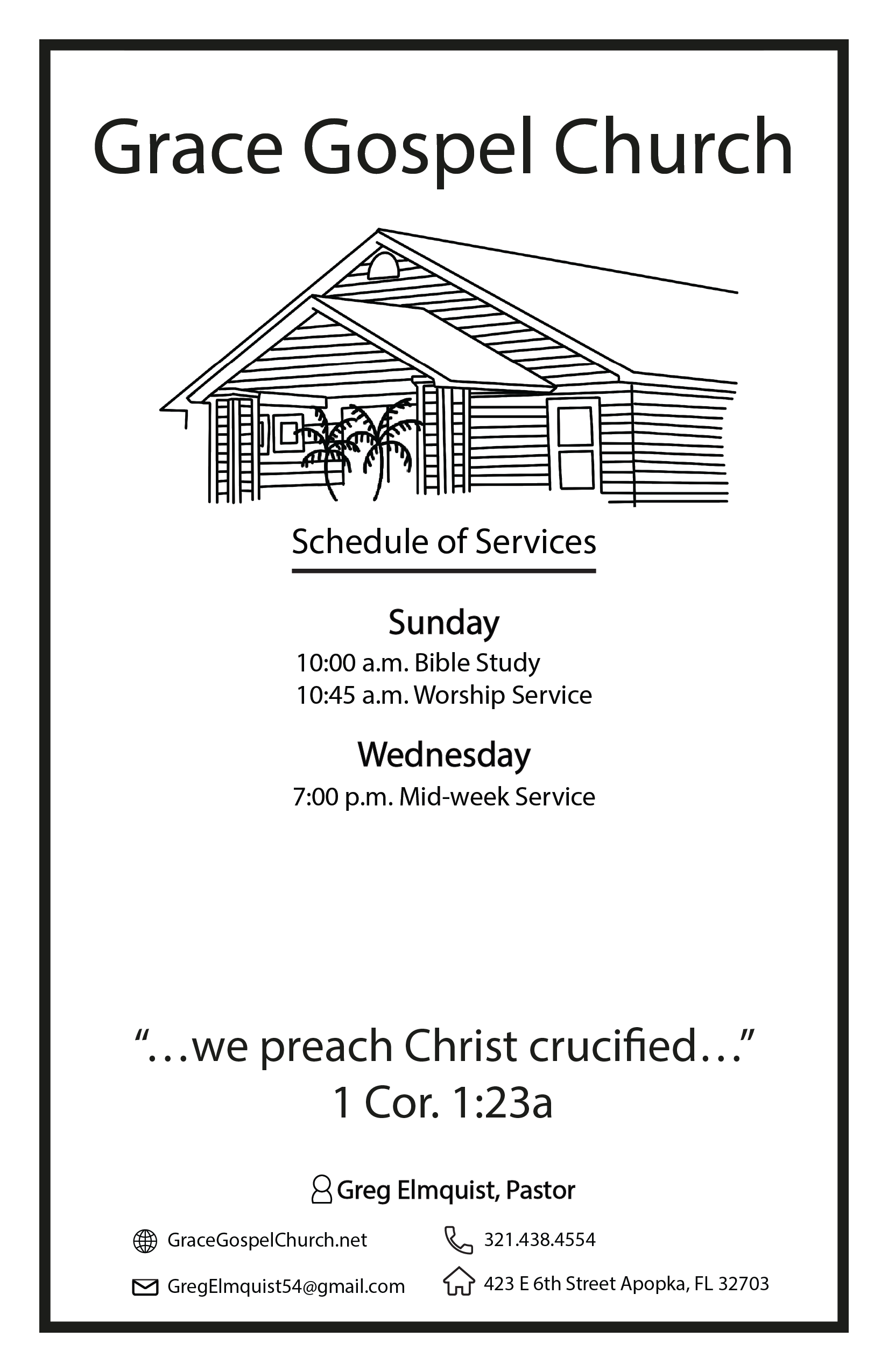 June 23, 2019
Constrained or Consumed
At His first appearing our Lord rode into Jerusalem "lowly, upon an ass" Zech.9:9. His posture was that of a humble servant seeking to save that which were lost. "For God sent not His Son into the world to condemn the world; but that the world through Him might be saved". Jn 3:17. This is still His posture today for anyone in need of a compassionate Savior. He draws His children to Himself with cords of kindness. He constrains them with lovingkindness.
Oh, what a stark contrast to His next appearing. With an army of angels, eyes like fire, and a sword for a tongue, The Lord Jesus is pictured as a reigning monarch riding not, "a colt the foal of an ass", but a great white stallion. Rev. 19:11-21. Justice for His elect was accomplished by the sacrifice of Himself in His first coming. Justice for the reprobate will be accomplished by their eternal judgment in His second coming. All men will be constrained by His love… or consumed by His wrath. The Spirit and the Bride say, "come".                                                                                ~Greg
_____________________________________________
 Examine Yourselves
"Examine yourselves, whether ye be in the faith" - II Corinthians 13:5
Usually when we think of examining ourselves, we think of examining our lives. How are we dealing with besetting sins?  Are we reading the Bible to our spiritual profit?  Are we spending time in prayer and communion with the Lord?  What does our daily lives say about our love to Christ? Can others see that we are Christians? What did Paul say?  Examine yourselves whether you be in the faith: if we gain assurance by how well we are performing, it is a false, works based assurance.  If we conclude we must not be saved by our failures in these things we are once again making salvation dependent upon our performance.  Do you believe that Jesus Christ is the Son of God? Do you believe that when He said, "It is finished", the salvation of all the elect was accomplished?  Are you relying on who He is and what He did as all you have for acceptance with God?  Then you are "in the faith" and a true child of God.                                     ~Todd Nibert 
Two Constant Needs
One, I need God to constantly keep me from leaning to my own understanding, from looking to righteousness in me, from trusting holiness in me and from being entangled again in the yoke of bondage, lest I glory in myself.  At the same time, I need God to keep making Christ unto me Wisdom, Righteousness, Sanctification and Redemption, that I might glory only in the Lord.       ~Clay Curtis
_____________________________________________
Sunday morning, before we go to hear the Word of God preached...let us not rush into God's presence careless, reckless, and unprepared, as if it mattered not in what way such work was done. Let us carry with us faith, reverence, and prayer. If these three are our companions, we will hear with profit, and return with praise.                                                                         ~J. C. Ryle
_____________________________________________
Christ Our Gospel
The doctrines we preach and love are not mere teachings of some particular method or plan, but the doctrines of Christ, who is our gospel; Christ, who is sovereign over all flesh; Christ, whose grace is both sovereign and free. Not to preach a sovereign Christ, is to preach another Christ. To preach another Christ is to preach another gospel (which is not another, Gal. 1:6 -9). It is just that simple. Mark it down: you cannot separate Christ from the gospel or the gospel from Christ, for they are one and the same. Christ is sovereign over all things and over all flesh, giving life freely to whom He will. The message of life for poor guilty sinners is the message of the Christ of God, who saves sovereignly and freely, even the chief of sinners!                             ~Maurice Montgomery
_____________________________________________
For who maketh thee to differ from another? and what hast thou that thou didst not receive? now if thou didst receive it, why dost thou glory, as if thou hadst not received it? 1 Corinthians 4:7
_____________________________________________
Upcoming Conference Dates
Sovereign Grace Baptist Church, Princeton, NJ         July 19-21
CALL TO WORSHIP 
Come ye saints, admire and wonder
Jesus' matchless love adore
Sing for Sinai's awful thunder
Shall upon thee burst no more.
Sing, though sins are black and large
Sing, for Jesus, by His dying
Set you free from every charge, 
Set you free from every charge.
Sing, though sense and carnal reason
Fain would stop the joyful sound
Sing, and count it highest treason
For a saint to hold his tongue.
Sing aloud, whose holy calling
Your election surely shows
Sing, nor fear a final failing
Jesus' love no changes knows
Sing, for you shall heaven inherit
Sing, and ne're the song be done
Sing, for He alone is worth it
He our sins did all atone.
Sing aloud among God's people
In your heart when all alone
Sing to Father, Son, and Spirit
One in three, and three in One. 
(Tune: "Come Thou Fount" p.17)  
Nursery
This Week 10:00  Savannah & Emily M. 10:45 Diane & Rachel W.
Next Week 10:00 Rachael C & Grace      10:45 Callie & LG 
Clean-Up Schedule
Week of Jun 23rd    Caleb & Bobbi Hickman
Week of Jun 30th    Dean & Star Mannino
         Birthdays
June 23  Cindy Towle     June 24  Tim Murray
June 25 Jillian Parker      June 25  Jim Fenby
June 25  Lowrey Veazey  June 26  Oliver Hardman