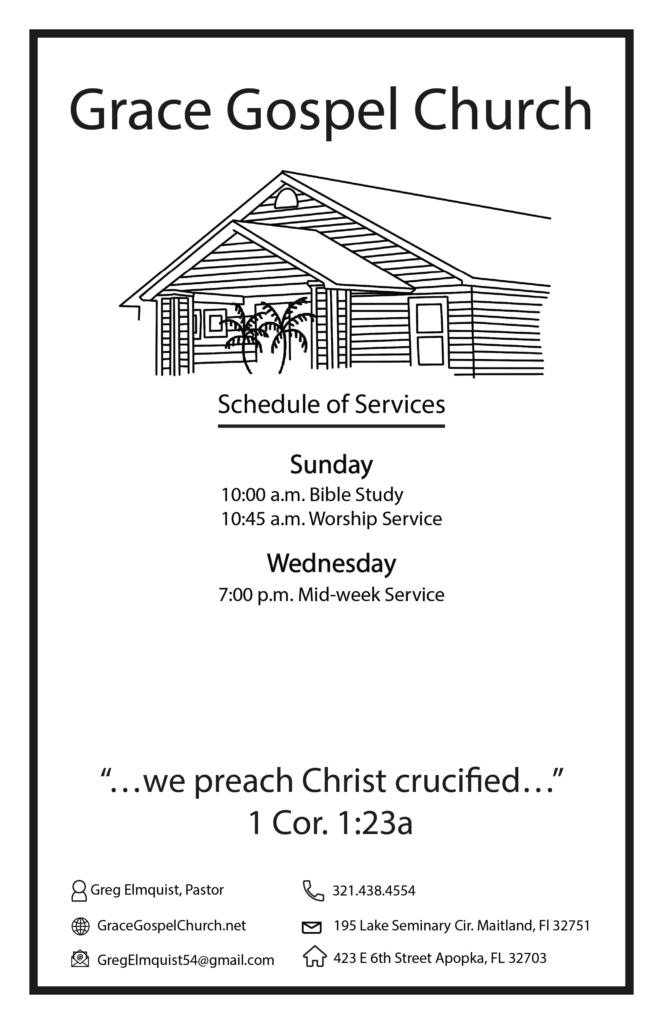 August 14, 2022
The world exalts morality over truth. They sacrifice sound doctrine for outward appearances. They look at behavior to judge salvation. If a person is kind and generous, it does not matter what they believe as long as they "love Jesus". Carried away with "strange doctrine" Heb. 13:9, they "will not endure sound doctrine." II Tim 4:3. Truth is, nice, principled people go to hell every day. "What think ye of Christ?" Matt. 22:42. That is the question. Whose Son is He? If He is the anointed Son of God, how could He be anything less than completely successful in the salvation of His people. Is behavior important? Of course it is. Let us walk according to our doctrine (teaching) that the gospel be not blasphemed. But let us not compromise the truth, without which no man can be saved.                                                                                        ~GE
_______________________________________________________________________________
Contending For the Truth
Contending for the Truth against the errors of modern religion is the duty of God's servants. I hope our spirit is one of genuine love to all the chosen of God; but today's rule of charity which requires us to keep silent on certain points in order to avoid controversy, I utterly despise. It is treason to the Lord Jesus to be silent on any point where He has spoken and the honor of His Gospel is concerned. It is easy on the flesh to deal in generalities, to denounce hyper-this or hyper-that, and to claim to be a friend to all, but it is required of the loyal servant of King Jesus to maintain His crown-rights and to stand up for His Gospel of glory and grace.                                                                        ~Henry Mahan
_______________________________________________________________________________
 We read the word 'Christian' three times and 'believer' twice in the Word of God. They are good, Scriptural words.  But we read the word 'saint' over one hundred times. Sanctified ones. Holy ones. Chosen to be holy by the Father in election (Eph. 1:4).  Declared to be holy by the Son in His sacrifice (Hebrews 10:14).  Made holy by the Spirit of God in regeneration (I John 3:9).  Set apart by the Father, Son, and Spirit.  What a blessed privilege and high calling… to be a saint of God!  It is the saint that pants after God. It is the saint that cries out, "Oh wretched man that I am."  He only hates the sin of his old nature.  The new nature the saint has here he will have in heaven!  The only difference will be he no longer has a sinful nature.  What a blessing of grace, what a future, to be a saint!                         ~Todd Nibert
Confidence In God's Grace
Do we really have confidence in the grace of God?  If we do, we will be satisfied with His grace and His grace alone.  If we have confidence in His grace, we will not try to offer up anything of our own as a reason for God to bless us.  If we have confidence in His grace, we will rest secure that, whatever happens in this life, God will preserve us blameless for the next life. If we have confidence in His grace, we will not try to build a church with fleshly enticements but will be satisfied with preaching and teaching the grace of God, knowing that God will call His sheep by that Gospel. If we have confidence in the grace of God, we will not be quick to judge others but will be patient with our brethren, knowing that God grows His people at His own rate and that what His grace has begun, His grace can finish. If we have confidence in the grace of God, we will be much more at rest, knowing that all things are moving in their proper direction to their assigned goal.                          ~Joe Terrell
______________________________________________________________________________
Sin Which Is Not Seen
How can God who sees all things, no longer see sin in believers?  The Lord Jesus Christ is the answer.  The Messiah (Hebrew word for Christ), of whom Daniel wrote, was, "To finish the transgression, and to make an end of sins, and to make reconciliation for iniquity, and to bring in everlasting righteousness" (Daniel 9:24).
To make an end of sins!  The Lord Jesus Christ has so effectually redeemed His people, so perfectly reconciled His people, so absolutely propitiated God, so thoroughly removed the sins of His people – that God declares – the God who cannot change – "Their sins and iniquities will I remember no more' (Hebrews 10:17).  "As far as the east is from the west, so far hath He removed our transgressions from us" (Psalm 103:12). "There is therefore now no condemnation to them which are in Christ Jesus" (Romans 8:1). In Christ, He sees us in Christ, in the Beloved, "In whom He is well pleased."                                         ~David Pledger
______________________________________________________________________________
"I was glad when they said unto me, Let us go into the house of the LORD." Ps. 122:1.
CALL TO WORSHIP
Our sov'reign God maintains His universal throne;
In heav'n, and earth, and hell He reigns, and makes His wonders known!
His counsels and decrees, firmer than mountains stand;
He will perform whate'er He please; and none can stay his hand!
All things His will controls; and His all-wise decree
Has fixed the destinies of all in matchless sov'reignty. —
Jacob by grace He saved, and gives no reason why;
But Esau's heart He left depraved. — And who shall dare reply?
What if the Potter takes part of a lump of clay
And for Himself a vessel makes and casts the rest away?
Who shall resist His will, or say, "What doest Thou?"
Jehovah is the Sov'reign still; and all to Him must bow!
My soul, bow and adore the Lord in all His ways;
His sov'reignty none can explore; but I will trust His grace!
"For of Him and through Him and to Him are all things:
To Whom be glory evermore! Amen! Amen! Amen!"
                                                                                                                                                                                                                               (Tune: "This is My Father's World" p. 39)
Nursery
This Week 10:00 Diane          10:45 Lauren & LG
Next Week 10:00 Christine    10:45 Star & Zobi
Clean-Up Schedule
 Week of Aug 14th     Chris & Ruth
                                    Grace, Rachel
                                    Logan & Emily
 Week of Aug 21st     Tim Murray Family
                                    Christian & Emilee
Birthdays
 Aug 15 Delphus Grubb           Aug 20 Logan Dunbar