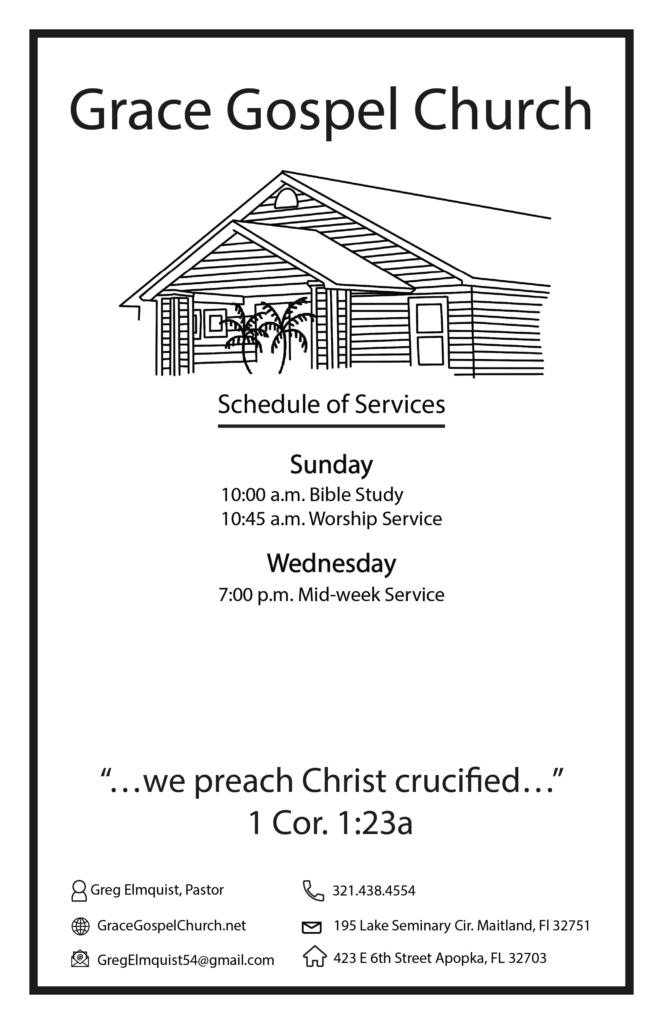 February 21, 2021
Where Does Grace Lead?
Some people would have us believe that if we preach pure grace it will lead people to licentious living. They say if we remove the law as a guide or motivation for Christian living, people will have nothing to keep them faithful. They say to tell a person to just follow Christ doesn't provide enough structure and will lead people to careless living. Is that where the gospel of God's free grace in Christ Jesus leads? Grace preachers have always been, and always will be, falsely accused of this devilish lie. The apostle Paul spent much of his time defending the gospel of grace against this lawmongers view of self- righteousness. "What then? shall we sin, because we are not under the law, but under grace? God forbid." Rom 6:15. Grace does not lead to sin. Grace leads to Christ. "For the love of Christ constaineth us…" 2 Cor.5:4 Truth is "The strength of sin is the law." 1 Cor.15:56. Show me a man preaching the law, and I'll show you a people with no hope for their sin; its penalty, power, and ultimately its presence.                             ~GE
____________________________________________________
Restraining Grace
The only thing that makes a difference between the breaking out of one man's sin over another is, the restraining grace of God. You know that if the Lord did not restrain you, there would be no limit to the depths of sin you could fall. You fear being left to yourself and plead for the Lord to keep you. You know that you have nothing except that which was given to you from heaven. You cannot find any reason to be puffed up against another. The more you grow in His grace and the knowledge of Christ, the less confidence you have in the flesh. As it is written, he that glorieth, let him glory in the Lord.                                      ~GE
____________________________________________________
Patience is a direct result of faith in Christ. If I believe that the Lord Jesus Christ rules this world for my good and his glory, I will be patient and content with his good providence. Recognizing my own sinful infirmities and the Lord's patience with me, I am constrained to bear the infirmities and offenses of my brethren with patience. Faith in Christ produces patience before God and men. 
            ~Don Fortner
The Cause Was from The Lord
The reason Rehoboam rejected the wise counsel of the elders and followed the foolish counsel of the young men was this… "The cause was from the Lord" (I Kings 12:15). God is completely sovereign over all of the free and un-coerced actions of men. How thankful we are for that!                                      ~Todd Nibert
____________________________________________________
The sovereignty of God is the stumbling block on which thousands fall and perish; and if we go contending with God about His sovereignty it will be our eternal ruin. It is absolutely necessary that we should submit to God as an absolute Sovereign, and the Sovereign of our souls as One who may have mercy on whom He will have mercy and harden whom He will.     ~Jonathan Edwards
____________________________________________________
Like a Child
"Verily I say unto you, Except ye be converted, and become as little children, ye shall not enter the kingdom of heaven" (Matthew. 18:3).
One of the wonderful and amazing things about little children is their implicit trust and confidence in their parents. They only need a simple statement or promise from Mom or Dad as the foundation of that trust and confidence. Lengthy explanations are not required nor asked for. Simply make them a promise and sincere belief and trust springs up in their hearts. How is this manifest? They follow Mom and Dad around, living on that promise, continually reminding them of it, and awaiting its fulfillment!
Is not that the way the children of God live before their heavenly Father? "These all died in faith, not having received the promises, but having seen them afar off, and were persuaded of them, and embraced them, and confessed that they were strangers and pilgrims on the earth" (Hebrews 11:13).       ~Maurice Montgomery
____________________________________________________
Our speech betrays us. Those who don't know Christ speak great things concerning themselves. Those who do know Christ speak greater things concerning Him.                           ~Tommy Robbins
CALL TO WORSHIP
How sweet and blessed is the time
With Christ within this place
When everlasting love reveals
The treasures of His grace.
While all our hearts and all our songs
Join to enjoy the feast
Each of us ask, with thankful hearts
Lord why am I a guest?
Why was I made to hear Thy voice?
And come before Thy throne
While others make a wretched choice
And rather starve than come?
'Twas the same love that spread the feast
That sweetly called us in
Else we would still refuse to taste
And perish in our sins.
We now desire to bless Thy Name
And in our hearts record
And with our thankful tongues proclaim
The goodness of the Lord! 
(Tune: "Am I a Soldier of the Cross?"  p. 414)
Nursery
This Week 10:00  Mary Wiginton      10:45 Christine
Next Week 10:00 Janelle                    10:45 Olivia  
Clean-Up Schedule
Week of Feb 21st         Jorge & Janelle
                                     Tim Murray Family
Week of Feb 28th        Adam & Rachael
                                     Adam & Lauren
                                     Christian & Emilee       
Birthdays
Feb 21 Gigi Riscinti                Feb 22 Mary Jane Neumann
Feb 23 Caleb Hickman           Feb 23 Reynaldo Pena
Feb 24 Donald Briggs             Feb 27 Janelle Velasco