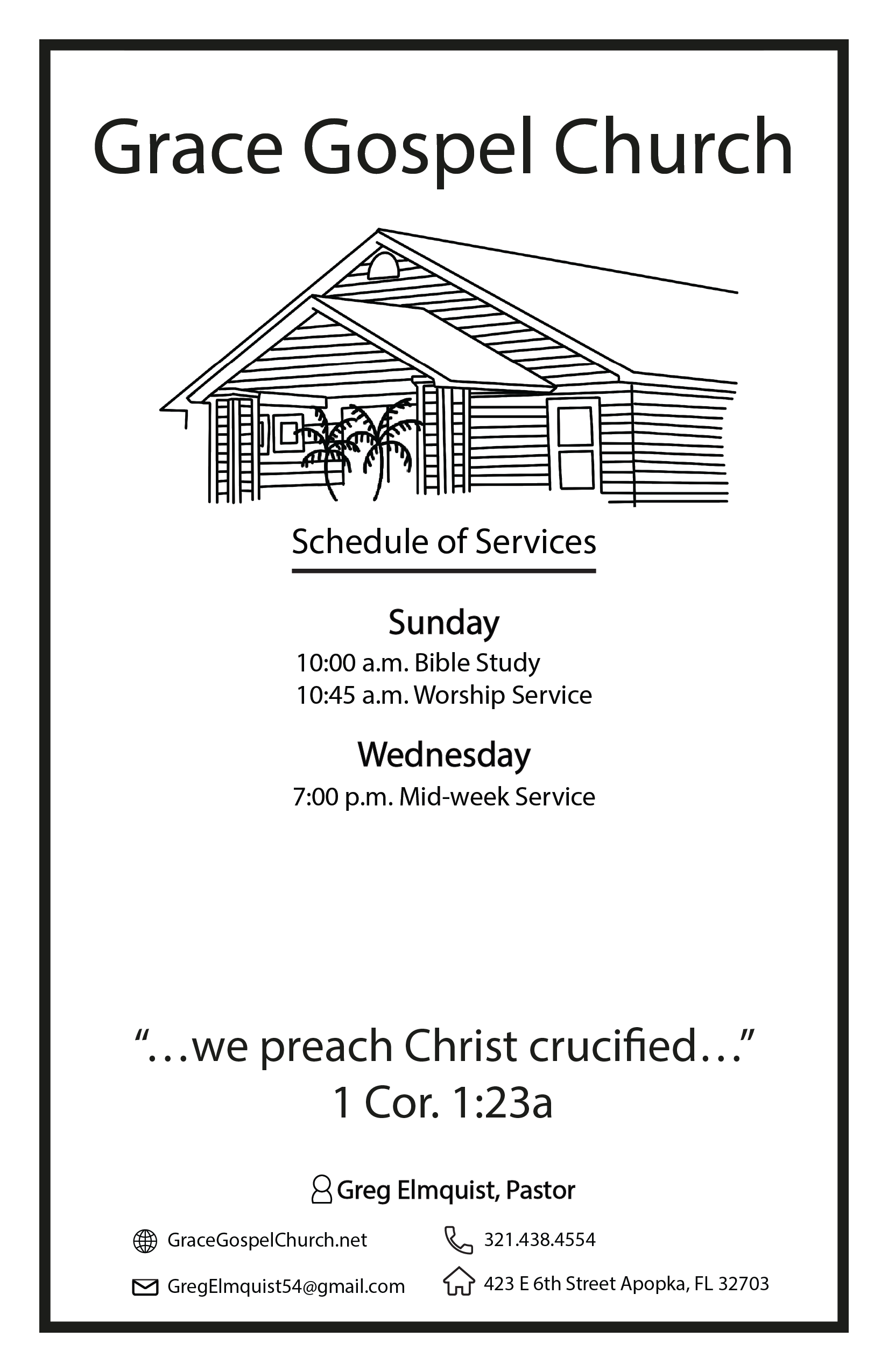 September 15, 2019
"Faith Without Works is Dead"
Why is this one of the first verses used to object to the gospel by so many religious people? First, the gospel of God's free grace in Christ exposes their works for what they are; a false refuge for false peace. The message of free grace robs them of their hopes.  Second, like all those who judge another, they condemn themselves, being guilty of the very thing for which they judge another. Their works are not done in faith. If they were, they would believe the gospel. The example used in James of works done in faith is that of Abraham offering up Isaac. What a glorious picture of the gospel whereby God provided Himself a sacrifice. Those who are quick to say, "what about works", leave out the part about Abraham believing God and that being imputed to him for righteousness.
Yes, we are His workmanship created in Christ Jesus unto good works which He hath ordained that we should walk in them. Child of God, we walk by faith not by sight. True faith gets no comfort from what can be seen by the natural eye. True faith looks unto Jesus the author and finisher of it, who alone can give life and peace. Don't be tempted to look away from Christ by the hypocrite that says: "yeah, but faith without works is dead".                ~Greg
_____________________________________________
When things spin out of our control, when well-laid plans, indeed, go awry, when carefully crafted back-up plans blow up in our faces, and all that we had expected to happen vaporizes into what actually happens, we are reminded that it is God's will and not ours that shall be done, and we are humbled into our proper place and God is exalted to His proper place.  "Our God is in the heavens, He has done whatsoever pleased Him."  And that is good.                                                                             ~Joe Terrell
_____________________________________________
All of the adjectives we use for grace like sovereign, free, and saving are inherent in the word. When we speak of the Biblical word grace it is always the grace of God that loves, elects, predestinates, justifies, redeems, calls, regenerates, preserves, and glorifies. Any use of the word grace that does not comprehend all of those things is not the grace of God. It is the word grace without the meaning of grace.                                                    ~Todd Nibert
Faith - Essential but Not Meritorious
Faith in Christ is essential to salvation. No man will ever be saved, accepted with God, apart from true faith in Christ. You must believe on Christ; or you will perish. But do not ever think that your faith is meritorious with God. Faith is the instrument by which we receive God's blessings; but it is not the meritorious cause of those blessings. The obedience of Christ alone is meritorious with God.                                       ~Don Fortner
_____________________________________________
The preacher who neglects to preach to himself has forgotten a very important part of his audience. It is quite right that he should often make himself his congregation.                   ~C. H. Spurgeon
_____________________________________________
Law and Grace 
Here are a few contrasts between law and grace. Law manifests what is in man—sin; Grace manifests what is in God—love;
Law demands righteousness from men; Grace brings righteousness to men; Law sentences a living man to death; Grace brings a dead man to life; Law speaks of what men must do for God: Grace tells of what Christ has done for men; Law gives a knowledge of sin; Grace puts away sin; Law brings God out to men; Grace brings men into God.                                                      ~Scott Richardson
_____________________________________________
Look at a candle and how it burns.  The more the light shines, the more the candle diminishes.  What a beautiful illustration of the believer in Christ!  The more he learns the Gospel of Christ; the more precious Christ becomes and the less he thinks of himself.  One who is truly the Lord's shines forth the light of HIS righteousness, grace, goodness, mercy, forgiveness, and truth.  In so shining, self does not get bigger and more noticeable – the CHRIST does!  The glory is not to self but to HIM.  John the Baptist said, "He must increase, but I must decrease" (John 3:30).                                                                                              ~Copied
_____________________________________________
"I am not ashamed of the Gospel of Christ, for it is the power of God unto salvation…" Romans 1:16
CALL TO WORSHIP
Blessed are the sons of God.
They are bought with Jesus' blood,
They are ransomed from the grave.
Life eternal they shall have.
With them numbered may we be,
Now and through eternity.
God did love them in His Son,
Long before the world begun.
They the seal of this receive,
When on Jesus they believe.
With them numbered may we be,
Now and through eternity.
They are justified by grace.
Their dear Savior took their place.
All their sins are washed away.
They shall stand in God's great day.
With them numbered may we be,
Now and for eternity.
(Tune: "Rock of Ages" p. 126)
Nursery
This Week 10:00 Diane & Bobbi 10:45 Mary Williams & Jenn D
Next Week 10:00 Cindy & Emily D 10:45 Star & Olivia
Clean-Up Schedule
Week of Sep 15th        Britain & Jennifer Uranick
Week of Sep 22nd        Jorge & Janelle Velasco
Birthdays
Digna Charron's new address:
5713 Justicia Loop, Land O Lakes, FL  34639