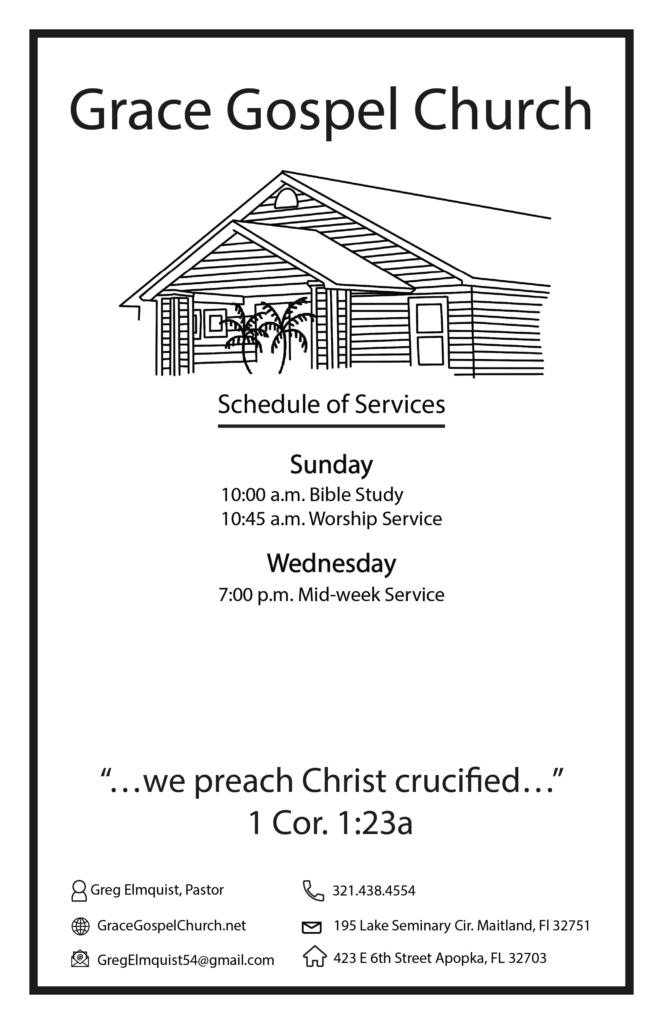 April 11, 2021
Nothing Doubting
When the Lord sent Peter to Cornelius with the Gospel, the Holy Spirit told him, "Nothing Doubting". Acts 11:12. Oh that we could always live with nothing doubting. By God's grace we do believe that Jesus is the Christ, the Son of God, the successful Savior of sinners. Yet the sin that doth so easily beset us is unbelief. Unbelief is the fountain that feeds all the polluted streams of sin. Lord, increase our faith. Help thou our unbelief. Our warrant for faith is the Word of God. Oh, that the Lord would speak to our hearts those precious words, "Nothing Doubting".                            ~GE
____________________________________________________
The Psalmist wrote, "Whom have I in heaven but thee? and there is none upon earth that I desire beside thee." Who but Christ came into the world to save sinners? (1 Timothy 1:15) Who but Christ Jesus died as the One Mediator between the depraved sinner and a Holy God? (1 Timothy 2:5) Who but Christ, knew  no sin, and was made sin for His people that they might be made the righteousness of God in Him? (2 Corinthians 5:21) Who but Christ loved us and gave Himself for us? (Titus 2:14) Who but Christ died the just for the unjust in order to bring us to God? (1 Peter 3:18) When God by, divine intervention, reveals these things to a chosen sinner, they must conclude, "and there is none upon earth that I desire beside thee.                                                          ~David Eddmenson
____________________________________________________
Forgiveness and Fear
"But there is forgiveness with Thee, that Thou mayest be feared" (Psalm 130:4).  Only the forgiven person fears God. There is no awe, reverence, or respect in the heart of an unforgiven person.  Their alleged service to God is motivated by fear of punishment or hope for reward. But the person who has been forgiven for Christ's sake has a reverential fear and awe of God.  And that fear is demonstrated by looking to Christ alone as the reason for his forgiveness, and Christ is all in every aspect of his salvation.                                                                        ~Todd Nibert
____________________________________________________
"For by one offering He hath perfected for ever them that are sanctified." Heb. 10:14
"Take my yoke upon you, and learn of Me; for I am meek and lowly in heart: and ye shall find rest unto your souls."
Matthew 11:29
There is no real and lasting rest for the unbelieving soul. He seeks rest and satisfaction in things that are perishing. He can never look beyond the mortal and corruptible. The yoke of the faithless is the heavy burden of sin and the sentence of death. He looks to the law for help but is only condemned for his efforts. 
However, those who are taught of Christ by God the Spirit find sweet and lasting rest in His Person and work. The accomplishment of Christ for His people is complete satisfaction to God. The only rest for the soul is God-given faith in Christ through the preaching of the Gospel. Christ our Lord was made sin and suffered our punishment for us, His elect, and now ever reigns for us in glory. Looking to Him we find peace, comfort and rest in trials and adversity, as well in times of prosperity and peace.
                                                                            ~Tommy Robbins
____________________________________________________
The world is trying it's best to convince us that all we can die from right now is Covid.  All we have to do is to protect ourselves from Covid and we will be fine. My dear friends, God can take us from this world in more ways than we can imagine. Put your whole trust in him who has abolished death and has brought in life and immortality. Fear and worship nothing or no one but Him alone.                                                                        ~Bruce Crabtree
____________________________________________________
Assurance is not knowing the time and place where you were saved. It is knowing the ONE who is your SAVIOR! Assurance, like all other graces, is a gift of the Holy Spirit. Assurance is the confidence of faith resting entirely upon the merits of Christ, the sinner's all-sufficient and perfect Sacrifice.              ~Don Fortner
____________________________________________________
I pray our Lord would grant me the ability to watch out for my brethren, instead of watching my brethren.                    ~Kevin Thacker
CALL TO WORSHIP
Come, whosoever will, nor vainly strive to mend;
Sinners are freely welcome still to Christ, the sinner's Friend.
The gospel-table's spread and richly furnished too,
With wine and milk, and living bread, and dainties not a few.
The guilty, vile, and base, the wretched and forlorn,
Are welcome to the feast of grace, though goodness they have none.
No goodness He expects; He came to save the poor;
Poor helpless souls He ne'er neglects, nor sends them from His door.
His tender, loving heart, the vilest will embrace;
And freely to them will impart the riches of His grace.
(Tune: "I Love Thy Kingdom Lord")
Nursery
            This Week 10:00 Maryann Salsburg  10:45 Emily Murray
            Next Week 10:00 Ruth Waesche        10:45 Diane Etheridge
Clean-Up Schedule
Week of Apr 11th        Greg & Tricia
                                    Scott & Christine
                                    Bonnie
Week of Apr 18th        John & Jennifer, LG
                                    Brian & Jill
                                    Jeff           
Birthdays
Apr 11 Bobbi Hickman           Apr 11 Mary Williams
Apr 14 Jeff Taubenheim          Apr 15 Kaylee Hardman
Apr 17 Caleb Uranick