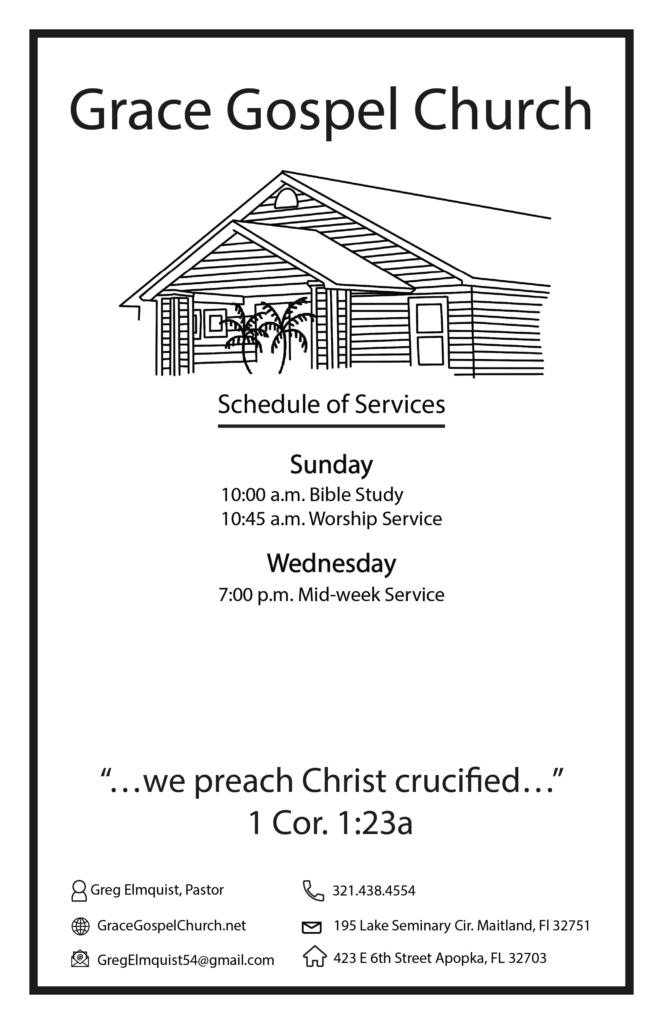 January 29, 2023
Hidden Treasure
"In whom are hid all the treasures of wisdom and knowledge." Col. 2:3.
When something is hidden, it is both secret and safe. So it is with the treasures of wisdom and knowledge. God has hidden them in Christ. They can only be known as He reveals the person of His Son. The hidden treasures of God are also eternally safe. They cannot be lost, destroyed, or altered. They are forever secure in the Son of God, who is Himself that treasure. He is the Pearl of great price. He is the Treasure faith lays up in heaven, where no thief can approach, nor moth corrupt. Where our treasure is, there our hearts will be also. May the Lord set our affection on things above, where Christ sitteth on the right hand of God.                             ~GE
_______________________________________________________________________________
Free will is responsible for every evil in the world. All sin is the result of free will. Free will is why the first murder was committed. It's responsible for all war and has produced every false religion. Free will is the doctrine of the sovereignty of man. Predestination is the doctrine of the sovereignty of God. If believed, it will abolish all race problems and rid us of all tyranny and war. "Now therefore, our God, we thank thee, and praise thy glorious name" (1 Chron. 29:13).                                                    ~Scott Richardson
_______________________________________________________________________________
A work that is finished - that is what brings rest. A war that is won - that is what brings peace. A law that is satisfied - that is what brings liberty. An inheritance that cannot fade away - that is what brings stability. A love that will never end - that is what brings union. A Helper who will never leave our side - that is what brings comfort. A salvation that reaches the uttermost - that is what brings hope. A Substitute that was sacrificed for sin - that is what brings pardon. A Blood that covers all iniquity - that is what brings forgiveness. A gospel message that declares good news - that is what brings joy. A cross that is conquered - that is what brings glory. A death that is swallowed up in victory - that is what brings life. Everything that is accomplished for a child of God, and everything that the accomplishment brings to a child of God, is found in the Person of the Lord Jesus Christ!        ~Gabe Stalnaker
  The Mark of a True Disciple
There are many things that come to mind when you think of the marks or evidences of true discipleship…faith, humility, doctrinal understanding, courage, meekness, zeal, just to name a few. But the Lord gives one mark to identify His disciples. "By this shall all men know ye are My disciples, if you have love one to another" (John 13:35). The love that Paul described in I Corinthians 13, the love that is longsuffering and kind, the love that does not envy, promote itself, or is swollen with pride. The love that is not rude, self-seeking, easily offended, and does not keep records of wrongs. The love that does not rejoice in the fall of others, but rejoices in the Truth. The love that covers with silence all things, that believes, that hopes all things, and endures all things - the love that is never reduced to inactivity. Is it any wonder Paul said, "Make love your pursuit" (I Cor. 14:1)? This is the identifying mark the Lord chose as the identifying mark of His disciples!   ~Todd Nibert
_______________________________________________________________________________
Christ did not come to make salvation possible for as many people as might someday decide to accept him as their personal savior. The Lord Jesus Christ came into the world to make salvation CERTAIN for all those the Father gave Him in the covenant of grace. If this is not so, it is not possible for anyone to be saved.
  ~Frank Tate
_______________________________________________________________________________
Those who have been saved are those who are being saved (I Cor. 1:18: Philippians 1:6; 2:12, 13). Those who have learned of Christ are those who are learning of Him (John 6:45; Matthew 11:29). Those who know the Lord are those who desire to know Him (Philippians 3:7-10). Those who have seen the glory of God in the face of Jesus Christ (II Corinthians 4:6), are those who continue to cry, "Lord, I beseech thee, show me thy glory" Exodus 33:18). These are the people who by the grace of God can say, "As for me, I will behold thy face in righteousness: I shall be satisfied, when I awake, with thy likeness" (Ps. 17:15).        ~Maurice Montgomery
_______________________________________________________________________________
"I was glad when they said unto me, Let us go into the house of the LORD." Ps. 122:1.
CALL TO WORSHIP
O, Lamb of God, still keep me Near to Thy wounded side.
Tis only there in safety And peace I can abide.
What foes and snares surround me! What lusts and fears within!
The grace that sought and found me Alone can keep me clean.
'Tis only in Thee hiding I know my life secure.
Only in Thee abiding I steadfast shall endure.
Thine arm the victory gaineth O'er every hurtful foe.
The love my heart sustaineth In all its care and woe. 
Soon shall my eyes behold Thee With rapture, face to face
The half hath not been told me Of all Thy power and grace.
Thy beauty, Lord, and glory The wonders of Thy love.
Shall be the endless story Of all Thy saints above.
(Tune: "The Church's One Foundation")
Nursery
This Week 10:00 Diane          10:45 Ruth & Grace
Next Week 10:00 Zobi           10:45 Renae and LG
Clean-Up Schedule
Week of Jan 29th        Ricardo & Gina
                                    Reynaldo & Laura
                                    Hugo & Zobi
 Week of Feb 5th         John & Jennifer
                                    Brian & Jill
                                    Jeff
                                    LG
Birthdays       
Feb 2 William Waesche          Feb 3 Armida Pena
Feb 4 Fior Diaz