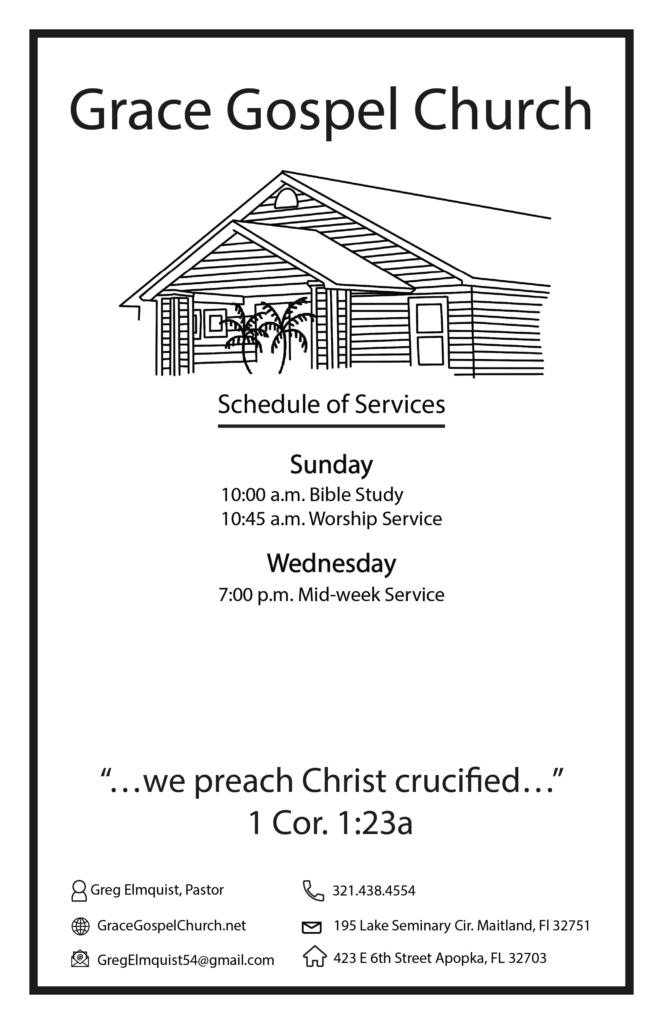 May 2, 2021
The name Babylon means "confusion by mixing". How confusing it is when men mix works with grace. Every man-made religion in the world is of Babylon. They are all in one form or another  confusion by mixing what God does with what man does. The gospel of God's free and sovereign grace accomplished by the Lord Jesus Christ in the sacrifice of Himself on Calvary's Cross is the ONLY message of salvation that is all of grace. It is the only message that denies man any glory. More importantly, it is the only message that ascribes to Christ all the glory.         How simple. How glorious. There is nothing confusing or mixed in "It is finished". Oh what hope the sinner has when all their salvation is of the Lord.                                                                                        ~GE
____________________________________________________
It is important to remember that the Bible does not tell other people how to treat me. We all spend far too much time fretting over the way other people treat us.  The Bible does not address other men.  It addresses me!  It tells me how I am to treat others! We cannot control how we are treated (although I believe that if we treat others well, we will be treated well).  But remember the words of our Lord, "Therefore, all things whatsoever ye would that men should do to you, do ye even so to them: for this is the law and the prophets" (Matthew 7:12).                                               ~Todd Nibert
____________________________________________________
    "And when he came to himself, he said, How many hired servants of my father's have bread enough and to spare, and I perish with hunger! I will arise and go to my father" Lu. 15:17-18
    When the Spirit of God comes to a vessel of God's mercy and quickens him in regenerating power and grace, that enlightened sinner then knows that the husks of this world's religion possesses no spiritual nutrition or eternal value. That sinner will not stay where there is no food for his soul but rather will flee to that place where the Lord Jesus, the Bread from heaven, is honored and praised…where the glorious Gospel of Christ, the message that is the power of God unto salvation, is preached. ~Marvin Stalnaker
____________________________________________________
"O remember not against us former iniquities: let thy tender mercies speedily prevent us: for we are brought very low.  Help us, O God of our salvation, for the glory of thy name: and deliver us, and purge away our sins, for thy name's sake." Psalm 79:8-9
A Believer Is A Mystery
The believer is a mystery to others and to himself also. He is sanctified yet feels himself to be the chief of sinners. He loves God's law and will, yet he wrestles with an inward desire to have his own way. He has great sorrow and heaviness of heart for many reasons, yet he rejoices in the Lord always. His spirit longs to depart and be with Christ, yet his flesh clings to this earth. He knows that he is secure in Christ, yet he examines his faith continually.                                                                  ~Henry Mahan
____________________________________________________
"He Must Increase - I Must Decrease"
As the years pass, I come to a greater and greater realization of how much I must depend upon the grace of God for my salvation. My righteousness appears less and less acceptable in my sight: and if it looks poor in my sight, how awful it must appear in God's sight! My will and determination do not appear half so strong as they once did, and I feel a greater need to rely upon the unchangeable will of God if I am to persevere. This business of growing in grace is not at all what I once thought it would be. Rather than growing stronger, it seems I am growing weaker. Rather than growing more self-sufficient, it appears that I am growing more Christ - dependent. My utter dependence on Christ for all things is more evident to me now than before. I suppose this is why Peter united growing in grace with growing in the knowledge of the Lord Jesus.  So, if your desire is to grow in grace, then prepare yourself to diminish; prepare yourself to reduce in the flesh, for growth in grace is a growth in "Christ being formed in you," which always follows the old pattern "He must increase, I must decrease."                                                         ~Joe Terrell
____________________________________________________
Special Meeting
May 28 – 30, 2021
Friday, 28th                 6:00 PM Pizza; Service at 7:00 PM
Saturday, 29th              10:00 AM Service
Sunday, 30th                10:00 AM and 11:00 AM Service
                                    Noon Lunch
Guest Preacher:           Donnie Bell
                                                                                                                           CALL TO WORSHIP
Jesus, Thy blood and righteousness
My beauty art my glorious dress
Midst flaming worlds in these arrayed
With joy shall I lift up my head.
This spotless robe the same appears
When ruined nature sinks in years
No age can change its glorious hue
The robe of Christ is ever new.
When from the dust of death I rise
To join the ransomed in the skies
E'vn then shall this be all my plea
That Christ has lived and died for me.
O let the dead now hear Thy voice
Now bid Thy people to rejoice
Our beauty this, our glorious dress
JESUS, THE LORD OUR RIGHTEOUSNESS.
(Tune: "From Every Stormy Wind That Blows" p. 355)
Nursery
             This Week 10:00 Jill               10:45 Lauraine
            Next Week 10:00 Christine    10:45 LG
Clean-Up Schedule
Week of May 2nd       Caleb & Bobbi
                                    Jeremy & Sandy
                                    Jeff & Megan
Week of May 9th        Chris & Ruth
                                    Grace, Rachel
                                    Logan & Emily
Birthdays:
May 2  Caleb Torres                May 3  Ricardo Belleza
May 4  Wayne Neal                May 7  Don Wiginton
May 7  Ryan Hardman            May 8  Daniel Murray