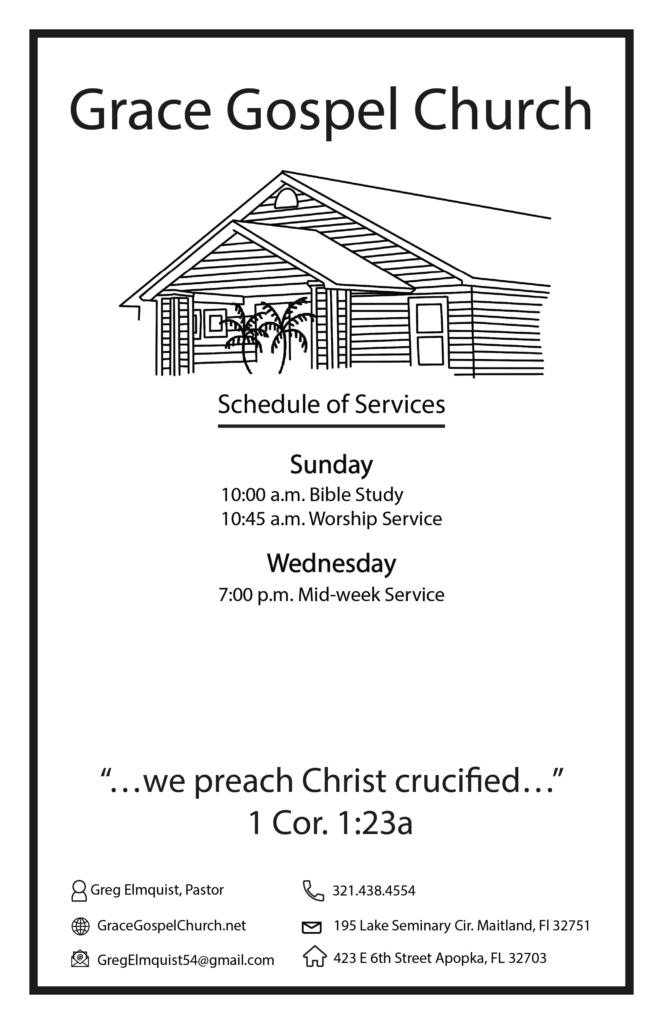 March 29, 2020
God's Judgment for Sin
If someone tells you that the coronavirus is God's judgment for a sinful world, just say; "they wish". Whatever troubles men are having adjusting their lives to this pandemic is truly a minor inconvenience compared to the judgment of God. No doubt, like everything else, God sent this trial, and God will remove it when He sees fit. But, is it His judgment for sin? No. God's judgment for sin is only satisfied in two places. First, Christ sacrifice of Himself satisfied God's judgment for the sins of his people. Second, God's judgment will be seen when all unbelievers are cast into the eternal lake of fire...in the last day. The Lord said; "I came not to judge the world but to save the world. He that rejecteth me, and receiveth not my words, hath one that judgeth him: the word that I have spoken, the same shall judge him IN THE LAST DAY".  Jn. 12:47-48. The world has, is, and will suffer many things as the result of sin. We live in a fallen world and sin has within itself its own consequences. To say that the consequences of sin are the judgments of God is to minimize the true nature of sin and the true nature of Divine holiness. The eternal judgments of hell are not sufficient to uphold these things. Only the cross can reveal them.
Truth is, the troubles God sends in this world are his mercies, not his judgments. They expose man's weaknesses and vulnerabilities. They humble the pride of man, which is always a good thing. Though we all enjoy the absence of conflict, peace and prosperity usually result in presumption and pride. Easy is not necessarily good, and hard is not necessarily bad. To the contrary, it is most often just the opposite. Hard is good, easy is bad. May the Lord use all the trials and afflictions of this life to make us more aware of our dependence of Him. And may he comfort our hearts from any fear of his fierce judgment, knowing that cursed for us was He that hung on the tree.                                                                       ~GE
____________________________________________________
"But my God shall supply all your need according to his riches in glory by Christ Jesus" (Phil. 4:19).God hath in Himself all power to defend you, all wisdom to direct you, all mercy to pardon you, all grace to enrich you, all righteousness to cloth you, all goodness
to supply you and all happiness to crown you.  ~Thomas Brooks (1608-1680)
The mighty God, even the LORD, hath spoken, and called the earth from the rising of the sun unto the going down thereof.  Out of Zion, the perfection of beauty, God hath shined.  Our God shall come, and shall not keep silence: a fire shall devour before him, and it shall be very tempestuous round about him.  Psalm 50:1-3
The religion of man is always based on guilt and that guilt drives men to ceaseless labor to remove that guilt.  But the religion of Christ results in rest.  Seeing that it is guilt that drives men to weariness and that Christ gives rest to all who come to Him, it must be that He is able to remove the guilt that compels them to religious labor. This is such a clear distinction that we can determine our spiritual state by asking ourselves, "Am I resting?"    ~Joe Terrell 
____________________________________________________
A dear friend said to me recently that death was on his mind quite a bit. He could look at death without fear because he really believed that all that God required of him, He looked to His Son for. But he said that he would like to die with no regrets. He did not want to lie on his death-bed and regret how he treated anybody. It made me think of a story I once read about a young man who went overseas to be a missionary against his parent's wishes. He believed God had called him to it. Three weeks after his arrival he died of a disease he caught the very first week he was there. A wasted life? His father went to the country to get his son's belongings and bring them back. He opened his son's Bible and found three things written….
No reserve.   No retreat.   No regrets.
Oh that these words would characterize our service for Christ! No reserve! No retreat! No regrets!                                  ~Todd Nibert
____________________________________________________
God does not say, "When I see your faith," or  "When I see your believing," or "When I see your experience," or "When I see your baptism," or "When I see your graces," but "When I see the blood, I will pass over you."                                           ~Milton Howard
____________________________________________________
"Unto you that believe, He is precious." Believers receive Christ, rejoice in Christ, and to them He is precious. His obedience is our righteousness, His blood is our atonement. His prayers are our intercession. His reign is our glory. His coming is our hope! Christ is all and in all!                                                        ~Henry Mahan    
CALL TO WORSHIP
A Rock that stands forever, Is Christ, my Righteousness!
In Him I stand un-fearing, In everlasting bliss!
Christ is my boast and glory—All wrath for me is o'er;
The judgment of the sinner: It frightens me no more.
There is no condemnation, There is no hell for me!
The torment and the fire—My eyes shall never see!
For me there is no sentence, For me there is no sting,
For Christ, my Lord, who saved me, Will shield me with His wing!
No angel nor a devil, No danger, fear, nor fight,
No foe, no tribulation, No throne, nor pow'r, nor might,
No height, no depth, no creature, That has been or can be.
Can pluck me from Thy bosom—Can sever me from Thee!
My heart leaps up with gladness—Grief cannot linger there!
Her voice sings high in glory, Bathed in the sunshine fair!
The Fountain of my singing, Is Jesus there above,
The Sun that shines upon me, Is Jesus and His Love!
(Tune: Stand up for Jesus, p.378)
Nursery
This Week 10:00 Callie & LG              10:45 Jenn D & Bobbi
Next Week 10:00 Rachel W & Ashley 10:45 Emily M & Olivia
Clean-Up Schedule
Week of Mar 29th        Greg & Tricia Elmquist
Week of Apr 5th          Trevor & Sarah Fancher 
Birthdays
Mar 30  Jennifer Uranick